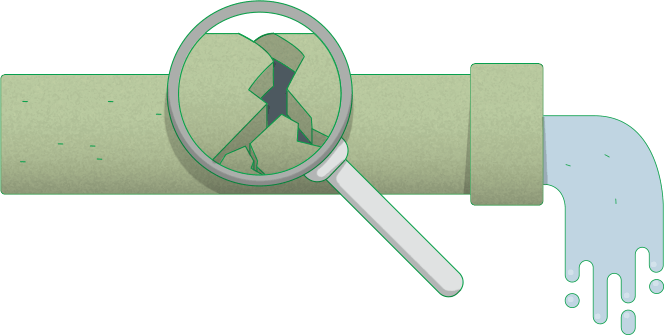 Once target areas have been identified through flow monitoring, municipalities should further inspect I&I culprits and use this information to create a plan to combat them. A comprehensive approach to locating defects involves inspecting all aspects of a collection system, including manholes, sewer mains and laterals.
Manholes
Manholes generate a disproportionate amount of inflow and infiltration and play a unique role in the structural integrity of roadways. Field inspectors should evaluate the manhole lid, frame condition and the frame connection for any defects or leak sources.
After manually inspecting the manhole cover, the field inspector can employ a manhole inspection camera or a zoom survey camera (also called pole camera) to inspect within the manhole. A manhole inspection camera captures visual and dimensional data and presents the operator with deliverables such as a flat scan with detailed image data covering every inch of the manhole wall, a dense point cloud for 3D visualization of the manhole structure and a virtual view inside the manhole. A zoom camera uses a video camera mounted on a telescopic pole, making inspection inside the manhole possible. During inspection the operator should document all cracks and deficiencies found and decide whether findings are a source of I&I. Learn more about tackling I&I through manhole inspections, here.
Sewer Mains
Groundwater seeps into sewer pipes through cracks, leaky pipe joints and deteriorated pipes. A CCTV inspection is by-far the most detailed method of pinpointing and characterizing I&I in pipelines. Sewer inspection crawlers employ a video camera mounted on a remote-controlled, self-propelled robotic crawler that is connected to a video monitor. An operator watching the footage can stop to study any observed defect. The video can identify cracks, fractures or breaks, root intrusions, leaking water (usually infiltration from groundwater), and general deterioration. CCTV inspection can determine the specific location and cause of infiltration. Furthermore, CCTV inspection can be very economical when compared to other I&I inspection methods because it is accurate in pinpointing infiltration sources without requiring other inspection methods.
Laterals
Solely inspecting and rehabilitating sewer mains is not enough when addressing I&I. Residential and service laterals are often culprits of heavy I&I, particularly where a lateral connects to the sewer main. Careful inspection of private laterals can help identify sources of I&I. One study reports that when service laterals are renewed following sewer lining, an additional reduction of 20-25 percent of I&I is expected. Lateral inspection can be accomplished from within a residence using a push camera, or from the sewer main using a lateral launch crawler, that travels down a mainline and then launches a secondary camera into laterals.