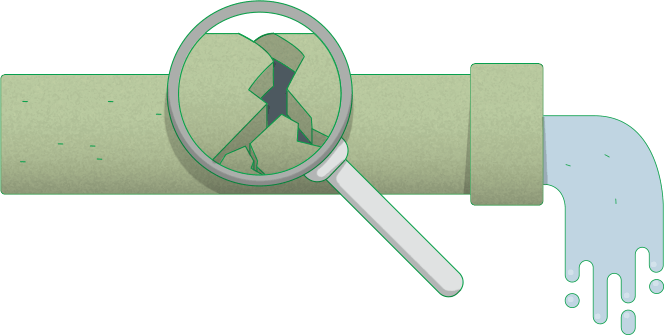 Once target areas have been identified through flow monitoring, municipalities should further inspect for I&I. They can also use their findings to create a plan to combat inflow and infiltration. A comprehensive approach to locating defects involves inspecting all aspects of a collection system, including manholes, sewer mains and laterals.
Manholes
Manholes generate a disproportionate amount of inflow and infiltration. Field inspectors should evaluate the manhole lid, frame condition and the frame connection for any structural defects or leak sources.
The interior of a manhole can be assessed with a manhole inspection camera or a zoom survey camera (also called a pole camera). Manhole inspection cameras capture both visual and dimensional data points, such as a flat scan with detailed images of the manhole wall and point cloud data for 3D visualization. A zoom camera uses a video camera mounted on a sliding pole. During inspection the operator should note all cracks and deficiencies and decide whether findings are a source of I&I.
Learn more about tackling I&I through manhole inspections here.
Sewer mains
Groundwater seeps into sewer pipes through cracks, leaky pipe joints and deteriorated pipes. A CCTV inspection is the most thorough way to find and understand I&I in pipelines. Sewer inspection crawlers use a video camera mounted on a remote-controlled robotic crawler that is connected to a monitor. An operator watching the video can stop to study parts of the pipe to find the specific location and cause of infiltration.
Laterals
Residential and service laterals often add to I&I, and careful inspection of private connections can help locate overlooked sources of I&I. One study found that 20-25 percent of I&I may be eliminated when service laterals are renewed following sewer lining.
Laterals can be accessed from either end: from inside a home using a push camera or from the main line. Lateral launch crawlers are designed to travel down main lines and then launch a secondary camera into laterals.